The History of Liberty Harbor East
April 18, 2019
Bozzuto has recently unveiled the opening of its new Baltimore waterfront community, Liberty Harbor East. With a launch as glamorous as this, we thought we'd share the hidden history and underlying details of Liberty Harbor East — the place you now call home. From the initial inspiration to the community amenities, this is the story of Liberty.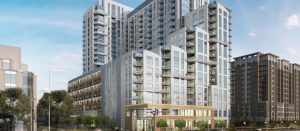 Photo credit: Bozzuto.com Liberty Harbor East is the brainchild of two success stories: the Bozzuto family and the Paterakis family. Both have direct ties to Maryland and Baltimore. The Bozzuto family has been a leader in the real estate and development industry since 1988, when Tom Bozzuto founded the company. Both Tom and his son, Toby, led and expanded Bozzuto to cover development, construction, management, and home buying. Their headquarters are in nearby Greenbelt, Maryland, making Baltimore a place of pride for the entire company. The Paterakis family owns the renowned H&S bakery in nearby Fell's Point. H&S Bakery is the largest privately-owned bakery in the United States. Its ties to Baltimore helped make the choice to develop this community an easy one. Even prior to the creation of Liberty Harbor East, Founder John Paterakis worked tirelessly to redevelop the Harbor East neighborhood into the high-end and elegant shopping district it's known as today. To permanently connect the two families through this project, the community was named Liberty, after John Paterakis' late sister.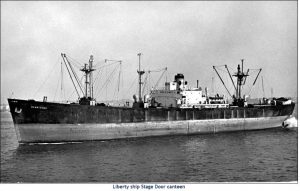 Photo credit: @AMMWWII on Twitter There is more to the story of Liberty Harbor East than the two influential families who envisioned the community initially. Nearly 75 years ago during World War II, the Inner Harbor was a major ship dock and manufacturing plant. Prior to the upscale dining options and ample shopping and entertainment choices, it was known as the Bethlehem-Fairfield Shipyard. The Liberty Harbor East name stems from this shipyard, where a fleet of ships called Liberty were built from the ground up. It was only fitting to bring the inspiration and the design of these ships into the name and layout of Harbor East's newest luxury living community. The Bozzuto team pays homage to the Liberty legacy through architecture inspired by the design and style of the massive ships that once got their start here.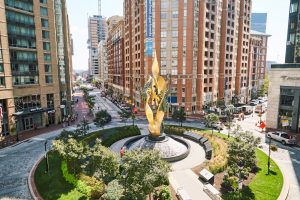 Fast forward to the present day, and Harbor East feels like a different world from its historic roots. Surrounded by designer brands, the finest foods, and the world-class Johns Hopkins Carey School of Business, you'll discover the local charm and endless options you've always wanted. To match the elegance of our new neighborhood, we've built unbeatable communal and personal amenities into Liberty Harbor East. Its location directly on the waterfront guarantees unmatched sunset views over the Inner Harbor. The community offers concierge services for cultural recommendations, reservation assistance, and package delivery, as well as an on-site yoga studio, private pet park, and an infinity pool deck with cabanas, courtyard seating, and grilling stations. For added convenience, the apartments and condominiums sit directly atop a flagship Whole Foods Market, making life at Liberty a thing of absolute ease. Visit the contact page of our website for more information on leasing an apartment, purchasing a condo, or receiving the latest updates: https://www.libertyharboreast.com/contact