Liberty Harbor East's Luxurious Guest Suite
February 26, 2020
Here at Liberty Harbor East, we strive for greatness. One exceptional, but little known, feature of Liberty is our suite d'hȏtes—aka, guest suite! We encourage all of our residents to take advantage of this spacious apartment home. So, invite some friends and family for a long weekend and comfortable stay, right here at Liberty.
What is the Guest Suite?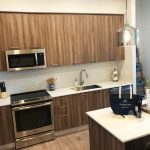 Liberty's Guest Suite is available to all residents and their visitors. For $175/night, residents can reserve the space through the
Bozzuto portal
. Best of all, there is no minimum or maximum length of stay. Our guest suite is located on the ninth floor and is a one bedroom, one bathroom apartment home that sleeps two guests comfortably.
The guest room is completely furnished and always immaculate, so guests can look forward to a queen-sized bed and tufted duvet, along with a spacious bathroom with a double-sink vanity. Beyond the bedroom and bathroom, there is a large seating area basked in sunlight, ideal for rest, relaxation, and simply hanging out. If guests are interested in cooking their own meals, there are also stainless steel appliances in the kitchen. Linens and cookware are all included. Guests are not responsible for laundering after their stay— we ensure that the guest suite is cleaned and everything is laundered after they checkout.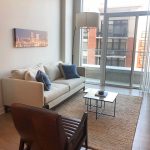 Guests will also be given access to the guest suite parking spot, so there's no need to worry about where to park in Harbor East!
Amenities
Liberty Harbor East extends its hospitality to all of its guests, including our great
amenities
!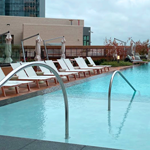 Guests will have access to the rooftop pool, clubroom, library lounge, conference/study rooms, and our fitness and yoga studios. The guests will also, of course, be able to enjoy the dazzling harbor views from the rooftop, clubroom, and courtyard. Afterall, we want your guests to feel at home during their stay at Liberty.
The Liberty Community
At Liberty Harbor East, the possibilities for luxury and entertainment are endless. There's nothing like Liberty, or Harbor East, for the environment, features, and sense of community. We hope your guests will take advantage of our guest suite and
explore Harbor East
and its many nearby eateries, boutiques, and leisure activities. Should you have any questions regarding our guest suite, feel free to call our office at 443.709.8147.