Let the Evening Be-Gin at Liberty Harbor East
May 19, 2020
Take life with a grain of salt… but also a slice of lime,
and
a shot of tequila. That's right, we're talking cocktails. So, let's get crafty and kick-it-back with some Maryland favorites.
A Short History of the Cocktail
The cocktail was actually inspired by 18th century British punch bowls. Punch houses would mix giant bowls of liquors, juices, and spices. Before the cocktail, America popularized "bitter slings," with liquor, water, sugar, and bitters. Years later, Jerry "Professor" Thomas popularized the art of crafting cocktails and bartending with the encyclopedia of
How to Mix Drinks.
The "Professor" also believed that
ice
was an important ingredient in cocktails. The "mixology renaissance" and popularization of cocktails took off in the '90s. Today, cocktails are a staple on bar menus across the world. Learn more about the
history of cocktails
.
What Makes A Good Cocktail?
It's not just a mixed drink—it's a piece-of-art! Here are two often overlooked items that contribute to a great cocktail.
Your Glassware. The right ratio of alcohol-to-refresher is important. A cocktail is a good mix of ingredients. Certain shapes and types of glassware, however, may affect the taste of your cocktail.
Besides cooling your drink, ice dilutes and adds flavor to a cocktail. Water is an important ingredient in cocktails; it harmonizes the mixed ingredients.
Maryland Cocktails You'll Like-Alada
Now that we know a bit more about the cocktail, let's take a look at some infamous Maryland cocktails that you can make in your home right here at Liberty Harbor East.
Black-Eyed Susan
The Black-Eyed Susan was first served in 1973 at the Pimlico Race Course. It was served with pineapple juice, rum, and, originally, vodka. Since then, it has evolved and become a staple in May and the signature drink for the Preakness Stakes. According to the
Baltimore Sun
, you can craft this cocktail with:
1 part Maker's Mark
1 part DeKuyper Cocktail Peachtree
1 part Effen Vodka
2 parts orange juice
2 parts sour mix
Orange Crush
Who doesn't love this refreshing Mid-Atlantic staple? The Orange Crush was first officially crafted in 1995 in Ocean City, Maryland at Harborside Bar & Grill. This classic happy-hour beverage is also a staple at Orioles pre-grames because of its orange color. You can enjoy this refreshing cocktail at home by mixing:
2 oz. of citrus/orange vodka
1 oz. of triple sec
a splash of Sprite
Crushed ice
Orange juice
We recommend that you squeeze one whole orange for the freshest crush in town! Learn more about this Maryland classic and watch how to make an orange crush
here
.
Southside
There's a Southside
rivalry
here in Baltimore, between Andy Ervin, from the Elkridge Club, and George Lee, from the Green Spring Valley Hunt Club. The recipes of both Southsides are slightly different and unique, but here's the Southside recipe featured in
Baltimore Magazine
:
3 oz. of dark rum
2 oz. of fresh lime juice
1 oz. of fresh lemon juice
3 oz. of club soda
Pulverized mint
Sugar to taste
You can also purchase pre-made Southside mix
here
.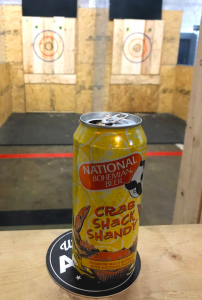 Natty Bohtini
Natty Boh has been brewing beer for over 130 years! Despite no longer being brewed in Maryland, it will always be considered a Baltimore beer—90% of Natty Boh sales occur in Baltimore! After all, what screams "Maryland," more than crabs, Old Bay, and Natty Boh? While some may not classify the Natty Bohtini as a cocktail, you can't get much more Baltimore than a Natty Boh with an Old Bay rim, topped with a piece of jumbo lump crab meat. Try it with their Crab Shack Shandy for an extra special summer treat.
Get Shaking
We hope that you have a
bloody
good time crafting these Maryland cocktails. Share your concoctions with us on social media by tagging @LibertyHarborEast and #LiveLiberty.