A-Peel-ing Apple-Picking Destinations in Maryland
September 21, 2020
Autumn is rapidly approaching—with cool breezes, changing leaves, and longer nights, what's not to love? Additionally, apples and pumpkins are officially in season. We encourage Liberty residents to celebrate fall with apple-picking, apple cider (donuts), and everything pumpkin spice. Here are some Maryland favorites, stocked with fresh produce and apple-y goods.
A List Of Places You Can Pick To Visit
Here are some local farms, orchards, and markets that permit apple-picking.
Larriland Farm
Larriland Farm is a locally- and family-owned company. In 1972, the Moore family started growing vegetables and fruits. Then, the apple orchards and farms grew. Today, Larriland Farm is a popular autumn spot for apples and pumpkins. Larriland Farm prides itself on ethical crop rotation, for pest and disease control. Apples available for picking include: Daybreak Fuji, Autumn Crisp, and Honey Crisp. Empire and Crimson Crisp apples are available to pick mid- and late September, respectively. Containers and bags must be purchased before picking. Containers are $15 / $27 / $45 for 2 / 3 / 4 people, respectively. All visitors must be COVID Courteous and wear a mask, maintain a 6' distance, and use hand sanitizer. Visitors are not permitted to wander the farm, or eat in the fields. Click
here
to read more guidelines.
Weber's Farm
For over four generations, Weber's Farm has been a Baltimore staple. Since 1908, Weber's has been growing and marketing fresh fruits and vegetables. Their infamous pressed cider is made in the oldest cider mill in Maryland. Honey Crisp, Gala, Blondee, and Cortland apples are available to pick. To go apple-picking at Weber's Farm, you must purchase PYO fruit online
here
. 2 people are allowed to pick per quart. Visitors must follow COVID guidelines: maintain a 6' distance between patrons, wear a mask, and use hand sanitizer. Guests are not allowed to eat/drink in the fields. We strongly suggest wearing shoes that can handle rough terrain. September 19th, 20th, and 21st, Weber's Farm is hosting their 45th Johnny Appleseed Festival. Stop by to enjoy some freshly baked apple cider and donuts. You can purchase tickets
here
.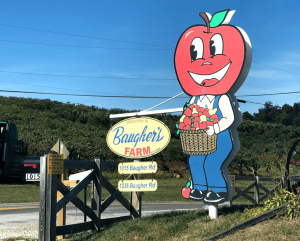 Baugher's Orchards and Farms
Over the previous 50 years, Baugher's has become one of the largest orchards in Maryland. The original 60-acres extended to over 600-acres. Apples available for picking are: Jonathan, Gala, Daybreak Fuji, and Macintosh. All bags and containers for apple-picking must be purchased in advance. The wagon ride up the hill is $3.00/person. All visitors must follow COVID guidelines and courtesies; remember to wear a mask and frequently use hand sanitizer.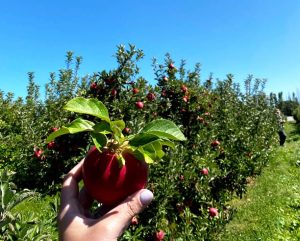 Lohr's Orchard
Lohr's Orchard opened in 1928, marketing fresh produce to Harford and Baltimore counties. In 1964, Lohr's Orchard started pressing and selling their amazing apple cider. Today, Lohr's is a local staple, specializing in strawberries, sour cherries, peaches, apples, and pumpkins. Apples available to pick include: Jonathan, Grimes, and Macintosh. Guests must bring their own containers to pick apples. Guests must also drive to the apple fields; there will be directions and signs. When picking apples, customers must also remain COVID Courteous: wear a mask, socially distance, and again, use hand sanitizer. Visitors are not permitted to wander, or sample the fruits in the fields. On weekends, PYO apples are $1/pound, with a $10 minimum purchase, from 9:30 a.m. until 1:00 p.m. Every weekend in October, Lohr's Orchard is offering free hayrides. Click
here
to read more.
Non-PYO Orchards
Heyser Farms
The Heyser family settled in Maryland in 1740, from Amsterdam. In 1940, Heyser Farm opened a roadside market, selling fresh fruits and vegetables. In 1946, the Heyser family purchased an apple cider press and began selling their notorious cider. Today, Heyser Farms is still a relatively small, charming family-owned business. Apples available are: York Imperial, Gold Rush, Fuji, and Cameo. Unfortunately, Heyser Farms does not offer apple-picking. The fields are a small 5-acres, so they do not want to further the spread of COVID, or waste fruits. Instead, guests are encouraged to visit their Market, stocked with fresh produce, jams, cider, baked goods, donuts, and plants.
Happy Fall
This autumn, we hope that everyone stocks up on locally-grown produce and seasonal fruit to enjoy in your home at Liberty Harbor East.