A Guide to Date Night in Harbor East
April 18, 2019
One of Bozzuto's newest communities has officially anchored down in Harbor East: an upscale, completely walkable, trendy part of downtown Baltimore. We've combed through the neighborhood to find the best spots for a perfect date night, so no matter how you like to spend your time out on the town, we've got you covered. Whether it's a special night celebrating an anniversary or a casual weekday night out with friends, you're sure to find a perfect option here. And the best part? It won't be more than minutes from your new home.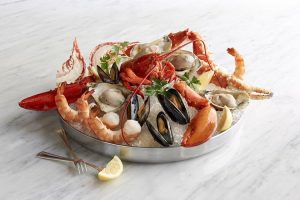 Photo credit: @theoceanaire on Instagram
Dinner on the Town:
As is often the obvious choice for date night, there are no shortage of five-star dining options in Harbor East. From high-end seafood to top-notch steakhouses, there's something to entice everyone's taste buds within blocks of Liberty Harbor East. Here are a few of our favorites:For an upscale seafood experience just a block from the water,
The Oceanaire Seafood Room
is a must-visit. Not only is everything on their menu fresh-caught and presented beautifully, but it's also all sustainably sourced to ensure both your enjoyment and the health of the ocean and all its inhabitants.If seafood isn't quite up your alley, consider a date at the notorious
Fleming's Steakhouse
, also in Harbor East. Pick from filet mignon, strip, or ribeye, and the server will suggest the perfect wine to match. For that touch of home, add some lump crab meat to any of their steaks. Both Oceanaire and Fleming's offer elegant fine dining ambiance that you and your date are sure to enjoy.For something a bit more casual, head over
Gordon Biersch Brewery Restaurant
. Perfect for all craft beer lovers, they offer an extensive menu of brews, all made in their house brewery. As the perfect complement to your beer, they offer an expansive selection of food ranging from blue crab artichoke dip and southwest nachos to pastas, pizzas, and more.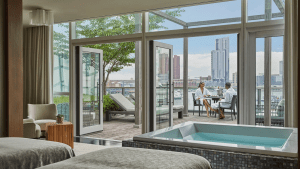 Photo credit: Fourseasons.com
Relax and Rejuvenate:
We know that dinner dates can start to get old, and sometimes, after a long work week, you just want to unwind. Consider a date to the
Four Seasons Spa
for a relaxing couples massage with your special someone. The spa offers a variety of massage styles to meet your individual needs and personalize every experience. After your massage, enjoy their signature Harbor Body Scrub to invigorate your skin. With every spa treatment, both you and your date will have access to their lavish amenities, including a vitality pool, a Finnish rock sauna, and even an aromatherapy steam room. This spa offers the ultimate way to repose after a hard week, ensuring you'll leave in the ultimate state of bliss. Within a five minute walk, you'll be back in the comfort of your own home.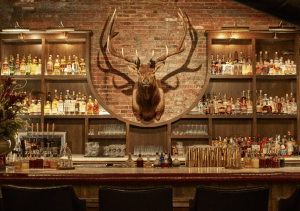 Photo credit: Patricksutton.com
Cocktails:
Are you looking for the ambience of an upscale restaurant but not interested in the three-course meal and time commitment that comes with it? We've found two must-see cocktail bars located just outside of Liberty Harbor East.Visit
The Elk Room
, named one of Esquire's Best Bars in America. Not only is the atmosphere absolutely picture perfect from every turn, offering the ideal opportunity to get that dream Instagram shot, but the cocktail menu is unmatched. Their bartenders are more like artists, whipping up stunning creations that are as pleasing to the eye as they are to the taste buds. They even provide live music every Thursday, Friday, and Saturday, as well as a menu full of delightful snacks like the charcuterie board or rich chocolate fondue.For a classic waterfront bar experience, head over to the
Loch Bar
on the first floor of the Four Seasons Hotel. They pride themselves on their world-class raw bar and the biggest selection of whiskey in all of Baltimore. Try your hand at one of their delicious and aesthetically pleasing shellfish towers, and don't forget to ask your bartender for their whiskey recommendation. They are the experts, after all.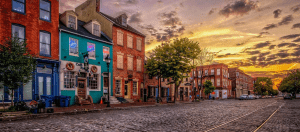 Photo credit: Fellspointmainstreet.org
A Walk Around the Park:
With springtime upon us, and the weather warming up, there's no better time to explore your new neighborhood on foot and discover all the beautiful spots that make Charm City so charming. Consider walking around historic
Fell's Point
, located just one neighborhood over from Harbor East. If you enjoy the water view, you can walk along the Inner Harbor from Harbor East all the way to Fell's Point. During your walk, you're sure to come across dozens of local restaurants, bars, and boutiques. Explore the shops, grab a bite, and take in the splendor of the city at sunset. If you're looking to switch things up, grab your date (and maybe your furry friend) and enjoy a walk through Patterson Park. Enjoy the fresh air, the breathtaking views, and the quality time with your date.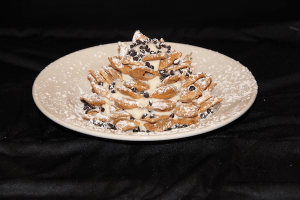 Photo credit: Vaccarospastry.com
Something Sweet:
You can never go wrong taking your date out for a sweet treat. In addition to the mouthwatering desserts you can find at our previous restaurant recommendations, there are a few dessert spots that really 'take the cake' -- pun intended -- for the best desserts in Harbor East. Located in nearby Little Italy, the famous
Vaccaro's
offers incredible Italian cappuccino, espresso, and gelato, but they're most known for their famous cannoli. Stop in and order dessert to bring home at their takeaway counter or grab a table and enjoy your treats in house. For something a bit closer to home, visit the
Haagen Dazs Ice Cream
shop located in the center of Harbor East. We don't need to convince you that your date will love a delicious sundae from this popular hot spot.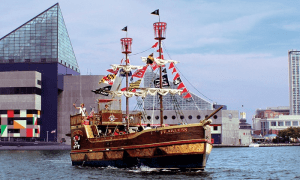 Photo credit: Groupon.com
A Different Type of Date Night:
The classic 'out to dinner' date will never get old, but if you or your date are looking for a different activity to try this date night, consider taking a ride on the
Urban Pirates
boat that you've likely seen sailing around the Inner Harbor. This may look like it's made for kids, but their adult B.Y.O.G (Bring Your Own Grog) rides beg to differ. Grab your date, your favorite adult beverage, and set sail for a night of live music, amazing sunset views, and fun times you'll never forget. The boat ride is an hour long, with a variety of time slots available, and are priced at $25 per person. Once you finish your boat ride around the Harbor, you may have worked up an appetite. Sign up for the
Bite of Baltimore
food tour to explore new restaurants in your neighborhood that you may otherwise have never discovered. The guide will take you on a walk through Fell's Point and bring you into iconic Baltimore-style restaurants where you'll enjoy a sampling of some of their fan-favorite dishes. The tours are 3.5 hours long, so be prepared to be on your feet. You'll find the walk well worth it once you discover some of Baltimore's food highlights.No matter what you consider to be the ideal rendezvous, Harbor East is a bustling, urban neighborhood offering a huge selection of ways to enjoy the community with your date. From dinner and a drink to a cruise around the harbor on a pirate ship, you'll never find yourself bored or out of options. Select your favorite of our recommendations, make a reservation, and surprise that special someone with a fun-filled, Baltimore-style date night. Now that you've found your home at Liberty Harbor East, you deserve to enjoy all the perks that come with living in one of Baltimore's most lively communities.