A Walking Guide to the Harbor East Neighborhood
April 18, 2019
Harbor East is a neighborhood situated to the east of downtown Baltimore and to the west of Fell's Point. Offering an elite mix of the best shops, restaurants, and entertainment that Baltimore has to offer, it has quickly become the trendiest neighborhood in the area. It's no surprise that visiting celebrities often make the Harbor East
Four Seasons Hotel
their home away from home when they're in town. One of the biggest benefits of living at Liberty Harbor East is the walkability of the community surrounding it. We've scoured the neighborhood to put together the ultimate walking guide for shopping, eating, and living your everyday life
—
in the most convenient way possible.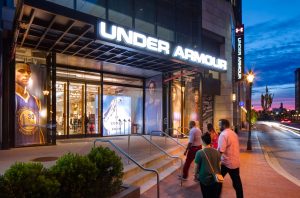 Photo credit: Harboreast.com
For the Shopaholic:
One of the biggest draws of our area is the bountiful shopping options, just steps away from Liberty. You'll see a little bit of everything here, from clothing to cosmetics, and even housewares. Most of the shops are located on Aliceanna Street, just a block north of Liberty. Visit shops like
Anthropologie
,
J.Crew
, and
Free People
for ultra-trendy yet wearable pieces. Also worth checking out is
South Moon Under
, featuring dozens of top-tier brands
—
the perfect stop to find a gift. They even have a stylish men's section! If the man in your life doesn't find something he likes there, the nearby
Brooks Brothers
is sure to offer something up his alley. When you're ready to decorate your new Liberty home, visit the
Arhaus
furniture store to find all the pieces that will make your new apartment the dream home you've always imagined.Other nearby shops include
Lush
,
Madewell
and
lululemon athletica
, but the must-see shop on your neighborhood tour is the
Under Armour Brand House
. Headquartered just across the Inner Harbor, the Harbor East Under Armour store is a landmark of Baltimore pride. UA athletic wear is a known staple in any true Marylander's wardrobe, and this is the perfect place to go to add a new piece to your collection.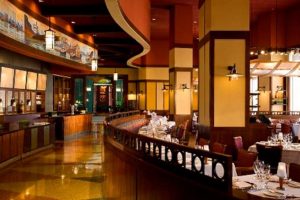 Photo credit: 10best.com
For the Foodie:
Shopping isn't the only luxury experience available in our neighborhood. When exploring Harbor East, you're bound to get hungry, and we've found some must-try hot spots all within a five-minute radius of home. Start the day off right at
Teavolve Cafe & Lounge
on Aliceanna Street for exceptional brunch and the largest selection of coffee drinks you've ever seen. In addition to upwards of 30 varieties of loose leaf teas, they have their own Teavolve specialities like the Red Velvet Dress Latte or the Nutella Mocha Latte.For lunch, check out
Taco Fiesta
on Exeter Street just a few blocks north, in Little Italy. Taco Fiesta makes every menu item from scratch, and has been doing so since the early 90s. Their best sellers are the sautéed shrimp taco and their house-made guacamole. Finish off your meal with a fresh fruit margarita, and we know you won't leave disappointed. For something a bit more formal, visit the iconic
Dalesio's
Italian restaurant. Little Italy sits just above Harbor East and offers some of the best dining options in the city. Dalesio's menu includes all of the classic Italian dishes with an impressive wine selection to match.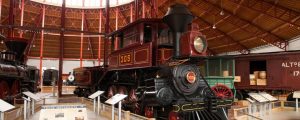 Photo credit: Visitbaltimore.com
For the Activity Seeker:
Also within walking distance of Liberty Harbor East is some great entertainment. Beyond the obvious choice to visit the Inner Harbor, there are some hidden gems not to be missed. At the corner of Aliceanna and President streets is the
Landmark
Movie
Theater
, which may as well be in your backyard. Offering all the current blockbusters, and with the comfort of reclining seats and a full-service wait staff, you're likely to become a regular. For an educational experience that's certainly worth seeing, walk north on S. President Street to the
Baltimore Civil War
Museum
. The museum offers an in-depth history of what happened during the Civil War, specifically at the President Street Station. Pay a visit to learn a number of interesting neighborhood facts to share with friends and family over dinner. Admission is only $3 per person, and they are open on Saturday and Sunday from 10AM to 4PM.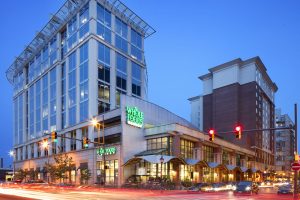 Photo credit: Harboreast.com
For Everyday Needs:
As a new resident in the community, it is crucial to know where all the services you need on a daily basis are offered nearby. One of the biggest perks to living at Liberty Harbor East is the unbelievable access to
Whole Foods
, located directly under your community. Grocery shopping has never been easier. When you're ready to host your housewarming party, walk to Exeter Street and stop at
Bin 604 Wine Sellers
. Choose from an incredible selection of wines from all over the world. If you are not yet a wine connoisseur, the knowledgeable staff can help you find exactly what you're looking for.Once you're settled in at your new home, you have a plethora of fitness options nearby. Choose from the
MAC Fitness Center
on President Street,
Orangetheory Fitness
on Aliceanna Street, or
Crossfit Harbor East
for a more extreme workout, located on South Eden Street. No matter your fitness goals, there is the perfect outlet for your workout style within blocks of home.For the perfect pick-me-up, head down to Exeter Street, and right across from the Whole Foods, you'll find the
Haute Blow Dry Bar
. They are extremely well regarded for their hair styling and blow out techniques, and with their convenient location, you'll never have to waste time doing your own hair again. Lastly, Harbor East offers a
Zipcar
port right on Aliceanna Street. With Harbor East being so walkable, owning a car may seem unnecessary. Zipcar allows you to rent a car on your schedule, all through an app on your phone. That way, when you're ready to explore some of the many other incredible Baltimore neighborhoods, a car will be outside waiting for you.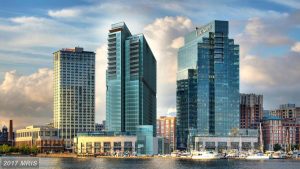 Photo credit: Baltimoresun.com
Liberty Harbor East was designed to accommodate anything its residents could need to ensure a lifestyle in which nothing is out of reach. Luckily, if it's not available onsite, it's most certainly present within blocks on the front door. Now that you've found home, take the time to explore the town. Check out our recommendations, and on your way, you just may find a new spot that could become a lifetime favorite. Just don't forget to visit the other incredible Baltimore neighborhoods that surround you!