Harbor East Gains Two New Amazing Restaurants: Bambao and Maximón
January 28, 2020
At Liberty Harbor East, we're lucky to be in the center of everything that the Harbor East neighborhood has to offer, especially some of the best restaurants in Baltimore. If you haven't had a chance to try out our new neighbors—Bambao and Maximón—then, be sure to make them your next lunch and dinner dates! Here's what you need to know:
Bambao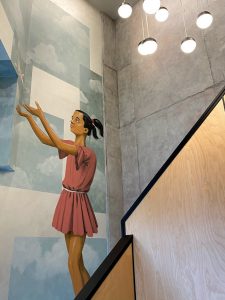 Experience a taste of Zen in Harbor East with
Bambao
, an Asian-fusion restaurant that aims to inspire and delight. Started by Michael Tsakalos, a real-estate investor, and a group of students from the Johns Hopkins Carey Business School, Bambao was intended to encourage mindful eating. Tsakalos worked closely with students, many of whom are of Chinese descent, to gain understanding on what would create a positive dining experience. Bambao is about so much more than delicious Asian-fusion food—the space itself intends to improve the customers day and each guest is rewarded with both the sense and taste of Zen, along with a touch of whimsy to inspire the spirit within. To achieve this, Tsakalos worked with Brand Architect Andre Vaseghi and Stephanie Bradshaw, a local interior designer, to create a fast-casual dining experience that delights all of the senses. While they've only been open a few months, Bambao was already featured in Thrillist, whom stated, "…the bright and modern space is serene, especially if you can hide away on the peaceful second floor, allowing yourself to forget about the hustle of the city just down below," regarding the interior.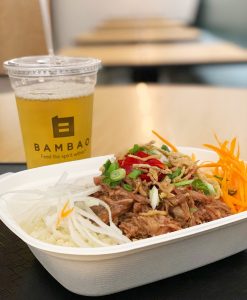 Now, let's get to the best part about Bambao—the food! Bambao focuses on steamed buns, rice bowls, and bubble tea, as well as some classic Chinese dishes. If you're aiming to eat healthy, then Bambao is the place for you! All of their rice bowls can be made with barley and/or cauliflower rice, making for a delicious healthy grain or low-carb option. Dishes like the Lemongrass Grilled Chicken can be served over cauliflower rice without the mayo for a light and healthy meal, or, try the Buddha Bowl for a healthy vegetarian option. But, if you do want to treat yourself a bit, they offer indulgences such as the Sambal Honey Fried Chicken and Chinese classics such as General Tso's Chicken, Fried Rice, and fan-favorite Crab Rangoon. You can also indulge in delectable dessert, such as a Churro Bao, and wash it all down with Bubble Tea, such as the Taro Milk Tea. The next time you're out and about in Harbor East, consider Bambao for a quick and delightful lunch or dinner.
Maximón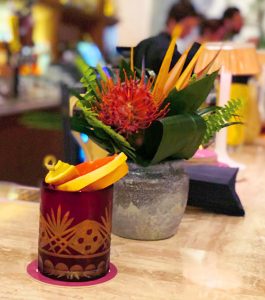 You don't need to go to Mexico to experience its cuisine now that
Maximón
has arrived in Harbor East! Maximón is located in the Four Seasons and is brought to us by the Atlas Restaurant Group—the minds behind Loch Bar, Azumi, and Bygone—which are also in the Four Seasons. Maximón was named after a Mayan deity infamous for always having a good time. At Maximón, a good time is exactly what you can expect to have. Upon entering the 8,000 square foot restaurant, you'll instantly feel transported to Mexico. As soon as the hostess greets you, you'll see a wall adorned with 160 vintage majolica plates and bowls. The look and feel that you've left America transpires throughout the restaurant, with lush greenery, stone archways, and wooden accents. The 175-person restaurant features a main dining room, bar, and lounge, as well as a private tequila tasting room. But, once the weather warms up, the real star of the restaurant will be the patio. Conceptualized by local interior designer Patrick Sutton, the patio will emanate purple light and include three fountains, Mexican tile accents, and greenery. The patio will seat a total of 125 people and include an 18 seat oval-shaped bar.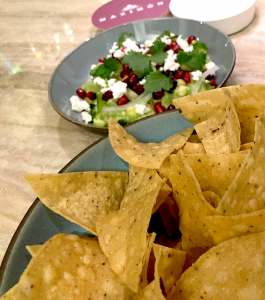 Perhaps the only thing better than the vibe at Maximón is the food and drinks. With appetizers like Queso Fundido, fresh guacamole, and ceviche, there is truly something for everyone. For a lighter meal, they offer a wide variety of tacos and, because this is Baltimore, there's even a Grilled Shrimp & Jumbo Crab option! Entrees include classics like fajitas, or treats like the Two Pound Lobster. There are even traditional platters for favorites such as Carnitas and Carne Asada. Whatever you order is going to delight your senses and be sure to wash it all down with a delicious cocktail, such as a margarita or the Salida del Sol. Whether you want to grab a drink at the bar, hang out in the lounge, or enjoy a full meal in the dining room, Maximón is sure to make for an enjoyable and delectable time out.
Harbor East Happenings
We hope you'll get a chance to check out Bambao and Maximón soon! For more news on everything happening in Harbor East, be sure to check the Liberty Harbor East
blog
often—there's always something new in Harbor East!