Celebrate International Picnic Day—Baltimore Style!
June 16, 2020
Thursday, June 18th is International Picnic Day—from a scrumptious spread to the most idyllic locations—we've rounded up a list of everything you'll need to plan the perfect picnic. The term picnic originates from the French word "pique-nique," meaning a social gathering with food and wine. After the French Revolution, picnics became wildly popular as a way for citizens to enjoy the royal gardens. Picnics remain, to this day, a chance to celebrate nature, friendships, and culture across the world.
A Blueprint for the Perfect Picnic:
Start with the essentials.
Remember to pack the necessities, like napkins and a garbage bag for clean up. This
checklist
is a great resource of everything you'll need to bring.
Don't forget the fun.
Take advantage of abundant open space with lawn games, like cornhole or bocce. Pack a Bluetooth speaker for your favorite fun in the sun jams.
Streamline your packing
Muffin tins can be your best friends—they're not just for delicious pastries. Use them to make mini pies, store deviled eggs, or store condiments. You can even use muffin tin liners to prevent bugs from going into your drinks!
Skewered fruits and veggies are easy to pack and a refreshing warm-weather appetizer.
Place a shower curtain liner under your picnic blanket to prevent ground moisture from making an appearance.
Location, location, location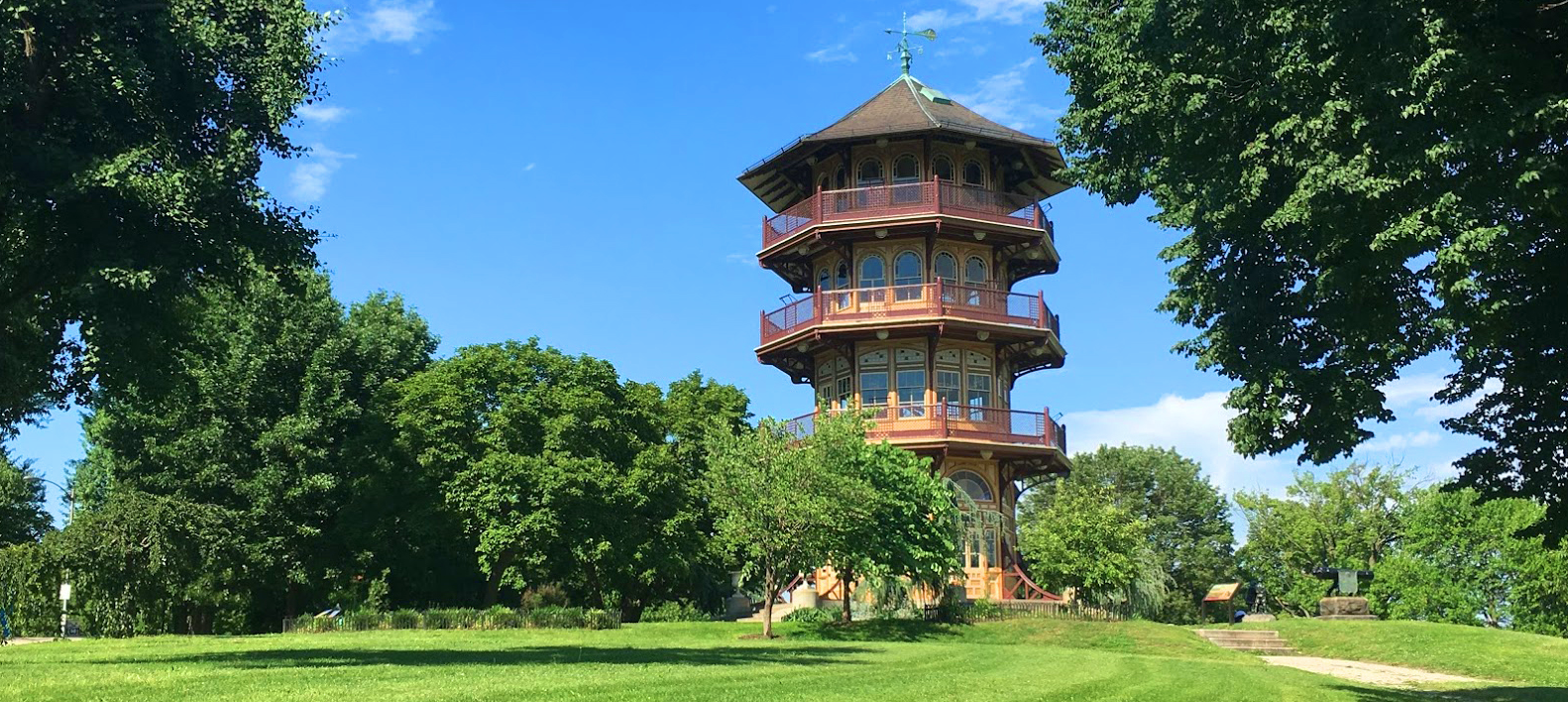 Whether you're looking for an expansive park with plenty of space to frolic, great views of the city, or something right on the water, Baltimore has the perfect park for your picnic:
Canton Waterfront Park
Right next door, Canton Waterfront Park will dazzle you with its breathtaking harbor views and green space.
Pierce's Park
Looking for a little whimsy? Pierce's Park features several art installations, making it a unique urban oasis.
Patterson Park
(pictured above)
Need a little room to spread out or play games? Patterson Park is a sprawling 137-acre park with two picnic pavilions, multi-use trails, athletic fields, and a dog park.
Federal Hill Park
If you're hoping to learn a little American History, Federal Hill Park is filled with rich history and boasts some of the best views in the city.
Prefer to skip the cooking? We have you covered.
Order take-out from one of these local favorites:
Loch Bar
@lochbar
has everything you need for a classic Mid-Atlantic seafood feast. Their infamous Lobster Roll is not to be missed.
Taco Fiesta
@tacofiestabaltimore
serves delicious Mexican cuisine with fresh, locally sourced ingredients. Try their easy-to-eat burritos, taquitos, and quesadillas for a picnic.
DiPasquales
DiPasquale's
offers delicious brick-oven pizzas, calzones, and paninis. This local favorite also serves freshly baked breads, meats, cheeses, and vegetables.
Chiu's Sushi
Craving something a little less traditional for your picnic?
Chiu's Sushi Restaurant
offers various sushi, and sashimi options—perfect for picnic finger food.
Rosina Gourmet
Sandwiches are a picnic staple and
Rosina Gourmet
's are nothing short of delicious and boast the freshest produce purchased from local sources.
Lighthouse Liquors
Lighthouse Liquors
is a one-stop shop. Not only can you find a wide variety of libations here, but they have a delicious deli serving up sandwiches and wraps, with plenty to offer carnivores and vegetarians alike.
Cheese Galore and More
Cheese Galore and More!
Offers artisanal cheeses and platters—the perfect picnic partners. Take advantage of their
wine and cheese pairings
: 2 pairings for $22, 3 pairings for $30, and 4 pairings for $35.
Whole Foods
Opening just in time on June 17th, the new Whole Foods we've all been patiently awaiting offers a variety of pre-made picnic must-haves. We hope your International Picnic Day is full of delicious food, great weather, and even better company. If you decide to go on a picnic, share photos of your spread with us,
@LibertyHarborEast
and/or #LiveLiberty.