Best Weekend Getaways
July 19, 2019
We know that everyone needs to get away now and then, even when your home is your perfect sanctuary. Luckily, when you live at Liberty Harbor East, escaping the city for a weekend is a breeze. From beaches and mountains to everything in between, Maryland has a lot to offer. Here are some of our favorite destinations for weekend getaways
—
all of which you can reach from your home at Liberty in three hours or less.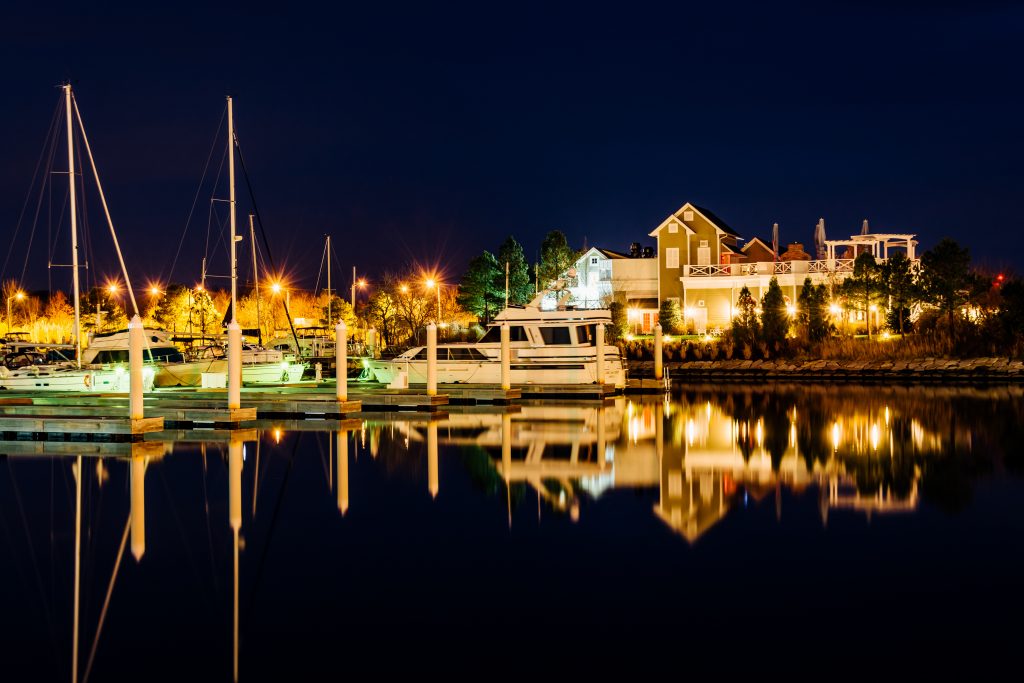 Kent Island
Just one hour after you exit your front door, you'll find yourself on the beautiful Kent Island, where you'll spend the weekend enjoying the small-town charm, sunny beaches, beautiful wilderness areas, and unforgettable waterfront dining. Whether you're looking for a romantic getaway with your partner or a relaxing weekend with the whole family, Kent Island has it all.
Check in to the
Historic Kent Manor Inn
, where their cozy guest rooms feature four-poster beds, window seats, and decor reminiscent of a bygone era. The inn's expansive grounds create a peaceful environment along the Chesapeake Bay, where you can kayak, swim, or simply enjoy the sunshine. Spend the day exploring
Terrapin Beach Park
, where you'll find wildflower meadows, wetlands, tidal ponds, woodlands, and sandy beaches. Pack a lunch to take to the gazebo and boardwalk by the beach to enjoy your meal with a spectacular view of the Chesapeake Bay Bridge. Or, take refuge in one of the park's observation blinds, where you might spy herons, ospreys, swans, turtles, bullfrogs, and a variety of songbirds. In the park, you'll also find the entrance to the western end of the
Cross Island Trail
, which spans Kent Island and ends in the Kent Narrows. The 6-mile paved trail is perfect for cycling, inline skating, or walking. You'll pass farm fields and a lighthouse, enjoy exceptional views of the seashore, and discover other scenic and historic points along the way.
If you're in the mood for a drink, stop by
Blackwater Distilling
to sample their award-winning spirits, which are crafted using organic and local ingredients whenever possible. Two minutes away from the distillery itself is the Tavern, where you can enjoy a tasting flight. Be sure to try their Picaroon Maryland Rum, which is made locally and entirely from scratch. Blackwater offers distillery tours on the weekends, in which you can witness firsthand the science and art of fermentation, distillation, proofing, barrel aging, and bottling.
For a delicious meal, Kent Island has plenty of options. Enjoy the friendly atmosphere and stunning views of the Chesapeake Bay at
Hemingway's Restaurant
, where you'll choose one of their many dishes that feature fresh seafood from the local watermen and other seasonal local ingredients.
Kentmorr Restaurant & Crab House
offers relaxed waterfront dining right in the heart of the Bay. You'll feast on award-winning crab cakes, delicious burgers, brick oven pizzas, homemade tacos, and more, all while taking in the beautiful scenery.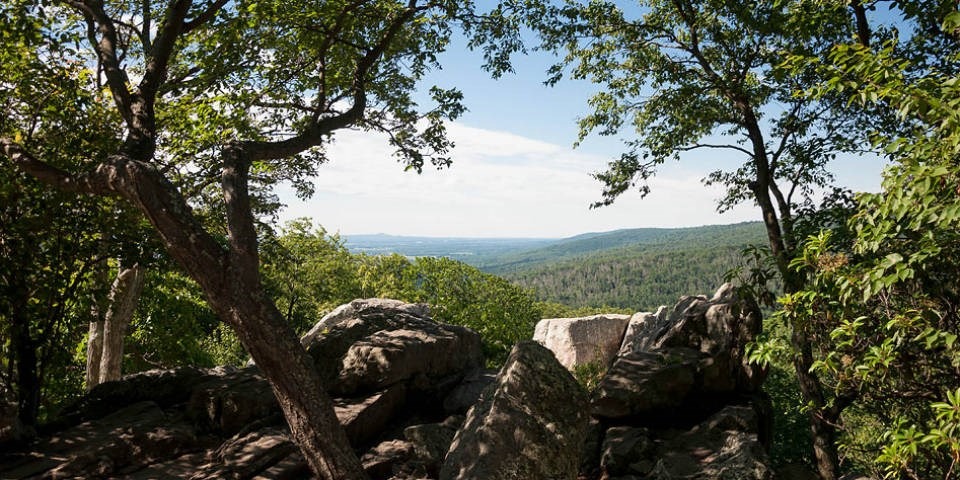 Photo Credit: www.nps.gov
Catoctin Mountain National Park
For those times when you want to escape civilization entirely, drive an hour and a half to
Catoctin Mountain National Park
. Nestled in the mountains of Western Maryland, the park offers stunning scenery, an endless number of outdoor activities, and a variety of accommodations. Whether you're a seasoned pro or more of a beginner when it comes to the great outdoors, Catoctin Mountain is the perfect place to spend a weekend.
Reserve a campsite at
Owens Creek Campground
, where you'll be surrounded by a lush mountain landscape and wake up to the sounds of the nearby bubbling brook. The campground is perfect for both first-time and experienced campers, and is a great location for those who want to access the park's hiking trails. If you're not ready to spend the weekend in a tent, try renting a cabin at
Camp Misty Mount
. This historic cabin camp, located in the park's hardwood forests, was built in 1937. Accommodations are rustic but comfortable. However, if you're seeking backcountry solitude, the park has two
Adirondack Shelters
that offer the bare minimum in terms of accommodations. To access these shelters, you'll leave your car behind and hike three miles into the wilderness for true immersion into nature.
In the park, you can spend your days enjoying the outdoors: whether that means fishing, hiking, or bouldering. Try your hand at fly fishing in
Big Hunting Creek
, where you'll find brook, brown, and rainbow trout (Maryland fishing license and trout stamp required, and all trout caught must be released).
Bouldering
is allowed throughout the park, or visit Wolf Rock if you prefer technical, roped rock climbing. Catoctin Mountain offers over 20 miles of hiking trails as well. The park's
east side trails
are a variety of difficulty levels and will lead you to stunning overlooks, the Cunningham Falls, or historical and interpretive exhibits that will give you insight into the unique history and origin of the park. For a quieter and more remote hiking experience, you may want to try the
west side trails
, where hikers can enjoy discovering the wetlands and remnants of old farms and are more likely to see wildlife. For the truly adventurous, the
Catoctin National Recreation Trail
starts at the northwest end of the park and runs 26.6 miles through Catoctin Mountain National Park, Cunningham Falls State Park, Gambrill State Park, and two municipal watersheds. The trail traverses the eastern most ridge of the Blue Mountains and offers a challenging and scenic hiking, horseback riding, or even cross-country skiing experience.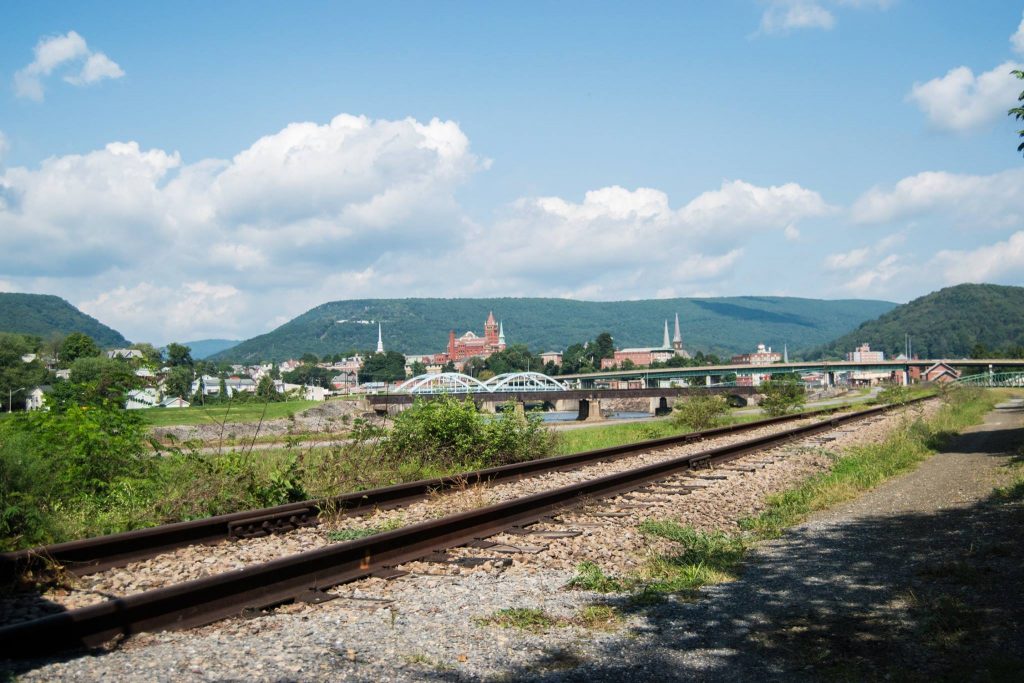 Photo Credit: Western Maryland Scenic Railroad on Facebook
Cumberland
If you're looking for small-town charm combined with beautiful mountain scenery, Cumberland is waiting for you just two hours west of Liberty Harbor East. In this scenic western Maryland town, you'll learn about the local history, enjoy the lush outdoors, relax at the spa, and indulge in local cuisine. 
Reserve a room at the
Cumberland Inn & Spa
, housed in two 19th century structures that historically were home to some of Cumberland's most distinguished citizens. The inn offers 13 uniquely decorated guest rooms as well as an on-site spa where you can enjoy a relaxing massage or refreshing facial. It is also located within walking distance of historic downtown Cumberland, which is perfect for accessing local restaurants and attractions.
Start your day at
Cafe Mark
, where you'll enjoy the finest quality lattés, coffees, and teas, alongside a stack of fluffy pancakes, a savory omelet, or a spicy breakfast burrito. From there, you can explore the
Allegany Museum
, where you'll learn about local history
—
from Pleistocene-era fossils and the fort that served as George Washington's headquarters during the French and Indian War to the construction of the B&O railroad in 1842.
To enjoy the outdoors, head over to
C&O Canal National Historical Park
, where original structures, including locks, lockhouses, and aqueducts, serve as reminders of the canal's important role as a transportation system in the 19th and early 20th century. Today, Cumberland serves as the western end of the C&O Canal Towpath, a well-kept pathway that provides a nearly level, continuous trail through spectacular natural scenery that is perfect for hiking and biking.
Don't miss one of Cumberland's most popular attractions: the
Western Maryland Scenic Railroad
(WMSR). The classic round-trip excursion leaves from Cumberland and travels west, stopping for one hour in the city of Frostburg before returning. The layover gives you time to explore the small town's vibrant attractions, including the
Thrasher Carriage Museum
,
Toasted Goat Winery
, and
Clatter Coffee
. Purchase a Dining Class ticket to enjoy lunch in the train's vintage dining cars, or for a more unique WMSR experience, try the
Moonshine Train
or
Murder Mystery Train
. 
When you've worked up an appetite at the end of the day,
Ristorante Ottaviani
will welcome you with a smile. You'll enjoy their delicious Italian family recipes, fine wine, and live music in the restaurant's casually elegant atmosphere. Or, enjoy gourmet sandwiches, seafood, and charcuterie at
The Manhattan Social
, where locally sourced ingredients and craft cocktails make for an unforgettable meal.

Photo Credit: www.ococean.com
Ocean City
Maryland's Ocean City has everything you need for a quintessential beach weekend, and best of all, it's only two and a half hours away from your home in Baltimore. 
The Fenwick Inn
has been a local landmark in Ocean City for over four decades and is conveniently located one block from the beach and just minutes away from the Ocean City Boardwalk. With modern renovations and new furnishings, you'll be staying in some of the most spacious hotel rooms in the area. The free parking and pet-friendly policy are just the cherry on top at this affordable and widely beloved inn.
Visit Ocean City's classic wooden
boardwalk
for three miles of fun, games, and food. Start your day by renting a bike from one of the many bike shops and taking a morning ride along the boardwalk. Children of all ages will enjoy riding the Ferris wheel, roller coaster, and magnificent 1902 carousel. Don't miss the arcades, such as
Marty's Playland
, where an endless selection of games and prizes await you. And when you get hungry, indulge in the traditional Maryland crab cakes, crispy fried chicken, and, of course, the famous
Thrasher's French Fries
. For your sweet tooth, dive into some scrumptious saltwater taffy, sweet caramel popcorn, or thick creamy fudge. At night, you'll often stumble upon live music performances and free activities for the whole family on the boardwalk.
For a different kind of fun in the sun, make your way to one of Ocean City's 17 championship golf courses, many of which were designed by some of the game's greatest players.
Eagle's Landing Golf Course
is the premier course in the area, with pristine courses, excellent refreshments, and great
deals
on tee times. You'll play 18 holes while taking in the sweeping views of Sinepuxent Bay and Assateague Island National Seashore.
When you're in the mood for a serene day on the water,
Assateague State Park
is the place to be. At Maryland's only oceanfront park, you can relax and enjoy swimming, beachcombing, sunbathing, surfing, and fishing on two miles of sandy beaches. Visit the bayside of the park to explore secluded coves by canoe or kayak. Assateague's marsh areas have a variety of wildlife, including deer, waterfowl, and the wild horses (for which the island is famous!).
At the end of a long day, the fresh seafood at
On the Bay Seafood
is sure to satisfy any appetite. In a casual, family-friendly atmosphere, you'll experience their delicious homestyle cooking: from steamed blue crabs and Maryland Crab Soup to seasoned scallops and golden-brown calamari. 
There are so many fun ways to escape the city for a few days, and some of the best destinations are just a short trip from Liberty Harbor East. So, pack your bags and hop in the car...an adventure awaits you!