Get Fit with Group Fitness Classes at Liberty Harbor East
January 31, 2020
With the end of January comes reflection. Did you make resolutions at the beginning of the year? Were you able to keep them all month long? Many people make a New Year's Resolution to get fit, but keeping that resolution as the year goes on can become increasingly difficult.
Group Fitness Classes at Liberty Harbor East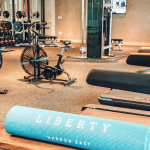 Luckily, for Liberty Harbor East residents, things are about to get easier. If your resolution was to get fit, then you've probably already explored our on-site
fitness center
, but sometimes, you might want more motivation. That's why we're pleased to announce that group fitness classes will be coming to Liberty Harbor East beginning on
Tuesday, February 4th
.
Fitness Open House
Get a feel for the new group fitness classes before they begin during our fitness Open House on
Saturday, February 1st from 10am – 12pm
. You'll have the opportunity to meet fitness trainers Reese and Amanda Ashe, whom will be teaching some of our group fitness classes, for mini class sessions. During the fitness Open House, you'll get a taste of everything they have to offer, their training styles, and of course—a great workout! After the workout portion of the fitness Open House,
Plantbar Baltimore
will be serving up some of their nutritious and delicious juices. Following the fitness Open House, we'll head over to
Lululemon Harbor East
for a Healthy Happy Hour! We hope you'll take the opportunity to try some new workouts this Saturday and join us for our fitness Open House in the Liberty Harbor East gym at 10am. Be sure to tag us in your photos and use #LiveLiberty.
Group Fitness Schedule
Once group fitness classes officially begin at Liberty Harbor East on Tuesday, February 4th, we're pleased to offer the following schedule:
Tuesday
Strength and Conditioning – 6:00pm
Thursday
Yoga – 6:00pm
Saturday
High Intensity Interval Training (HIIT) – 9:00am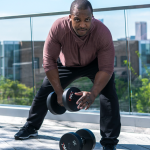 Meet the Trainers
Reese and Amanda Ashe may just be one of the most fit couples in Baltimore! Reese comes from a Mixed Martial Arts background and has been training for 18 years. His wife, Amanda, brings 16 years of choaching experience, played basketball, and has competed in many triathlons and marathons—her background is perfect for endurance training! They are both passionate athletes who practice what they preach. However, don't let this super-fit couple intimidate you! For anyone new to exercise, they realize that everyone has a starting point and their goal is to help build you up and support you. No matter when, where, or how you start, there is no judgment—only support—from this power couple.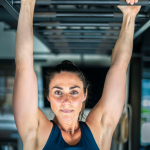 Their definition of fitness is "doing the most with what you have been given." They believe in doing the best you can and being the best that you can be—continuously improving and moving forward. We hope you'll find Reese and Amanda's passion for fitness as inspiring as we do and that you'll enjoy everything they have to offer us at Liberty Harbor East.