Get Your Daily Dose Of Vitamin Sea in Maryland this Summer
July 30, 2020
Summer has been greeting us with warm air and sunny skies. With that said, we hope that everyone has been getting some Vitamin D. Going outside and experiencing nature is the perfect way to connect with nature and celebrate summer. At Liberty, we would like to recommend some stunning Maryland spots for outdoor summer fun, (and some destinations to beat this sweltering summer heat)!
Known For Their Biking, Hiking, and More
Below are some great Maryland getaways for hikers and cyclists. These destinations also offer stunning views and beaches, for rest and relaxation.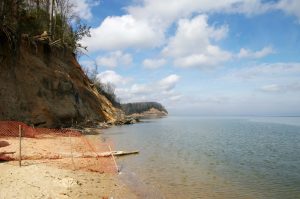 Calvert Cliffs State Park
Located on the Chesapeake Bay, Calvert Cliffs is a superb spot to cool off. From sunrise to sunset, visitors can relax along the beach, take a dip in the water, and witness unique fossils along the cliffs. There are also over thirteen miles of hiking trails, for your enjoyment.
Terrapin Beach Park
Given its 73 acres of wetlands, Terrapin Beach Park is a utopia for wildlife aficionados. Located along the Chesapeake, visitors can hike, and/or bike, through trails along the woodlands, meadows, ponds, wetlands, and beaches. Beachgoers can cool off in the swimming areas, or navigate water trails via canoe or kayak.
WhiteWater Rafting Enthusiasts
Looking to go whitewater rafting? Look no further!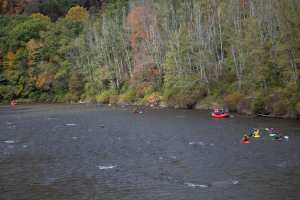 Youghiogheny Wild River Natural Environmental
Area
Navigate Youghiogheny Wild River Natural Environmental Area's mountain scenery and greenery via raft this summer. Their
whitewater rafting
is thrilling and exhilarating, with sharp drops of 280 feet in four miles. It is recommended that visitors hike the 1.25 miles
Swallow Falls Trail
, where hikers can stumble upon the 53-foot waterfall.
Calling All Paddlers!
Enjoy the summer breeze on a kayak or canoe this summer. Most destinations are also perfect for relaxation, hiking, and/or biking.
Assateague Island National Seashore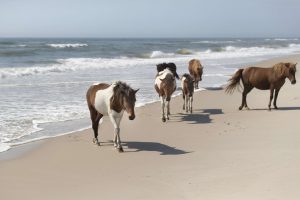 Explore Assateague Island National Seashore, for stunning views and wild horses.
Assateague State Park
is perfect for everyone, with secluded coves, a lengthy beach, and beautiful greenery. Located off of the coast of Maryland, Assateague Island offers various hiking, biking, and horseback riding trails. From 7:00 a.m. until sunset, you can cool off in the water and enjoy swimming, surfing, kayaking, and/or canoeing. If you're interested in camping, learn
more
.
Gunpowder Falls State Park
Expanding over 18,000 acres, Gunpowder Falls State Park is a sublime summer destination. Visitors may enjoy hiking, biking, and horseback riding in the
Central Area
. The 19.7 mile
Torrey C. Brown Rail Trail
is also a hotspot for hikers, joggers, and cyclists. Pets are welcome. Afterwards, you can relax along the beach, or even go for a swim. In the
Hereford Area
, visitors may cool off with kayaking, canoeing, and/or tubing. For more information on tubing, click
here
.
Janes Island State Park
Janes Island State Park within the Chesapeake Bay expands over thirty miles of water trails, salt marshes, and isolated beaches. From 5:30 a.m. until sunset, visit Janes Island, for various water activities, such as: boating, canoeing, kayaking, fishing, swimming, or simply relaxing.
Monie Bay
In the Chesapeake region, Monie Bay is known for its infamous water trails. Varying in difficulty, visitors can kayak along numerous trails. Prepare for fun and stunning wildlife and wetlands. The
Deal Island WMA
is perfect for nature enthusiasts. Visitors may birdwatch, hike, and bike along the expansive tidal marsh.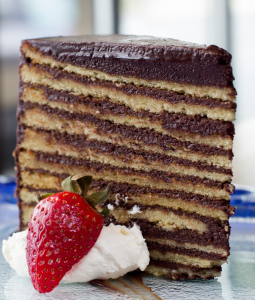 Smith Island
Located along the Chesapeake Bay, Smith Island is the perfect summer spot. Visitors can walk along the bay and throughout the village. You may also paddle through various channels, rivers, and marshes via kayak. Click
here
to view the "Paddler's Guide." Smith Island also offers
cruises and boat tours
to witness the island's wildlife and natural environment. Before you go, make sure to try Smith Island's infamous crab cakes and of course, our state dessert,
Smith Island Cake
. Additionally, the
Liberty Infinity Pool
is open and ready for use. Beat the heat with a quick dip and/or relaxing swim, just steps outside of your luxurious apartment home.